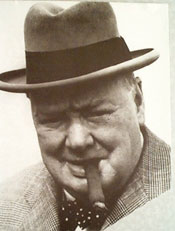 Another of my favourite format. The Churchill. I love the vitola, I like the man ! (or the other way around maybe? well anyway! ).
There are at least three very good cigars in this format :
H. Upmann

Sir Winston

Romeo y Julieta

Churchill

Cohiba

Esplendidos
Another contest I need to organize, it is likely though that
the best Robusto
(&
part 2
) will come first.
On a footnote, I found this very interesting text on the Web, written by Ian Buruma, a contemporary writer and essayist, about a
Churchill cigar actually smoked by Churchill
. I am wondering wheter this boutique still exists in The Hague...
Labels: CigarKnowledge